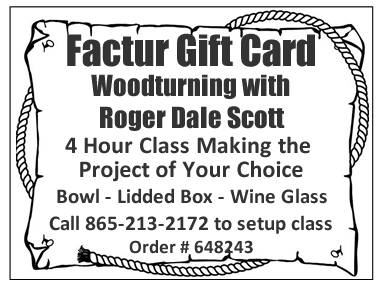 This is a GIFT CARD for one person to attend a (2, 3, 4 or 14 hour) woodturning class.
This class is intended for the very beginner. The class will focus on woodturning as a hobby. The class has an entertainment feel. However, learning to turn using the Easy Wood tools is the goal. It will have a strong emphasis on safety. Each student will receive one-on one training and hands on experience from Roger Scott, artist and Instructor. Students will learn the proper techniques required to complete one project. Join this class, have some fun and take home a treasure you will be proud of for years to come.
This class is by appointment. Once you have registered contact Roger for available appointments. 2 minimum to 4 maximum attendees per appointment.