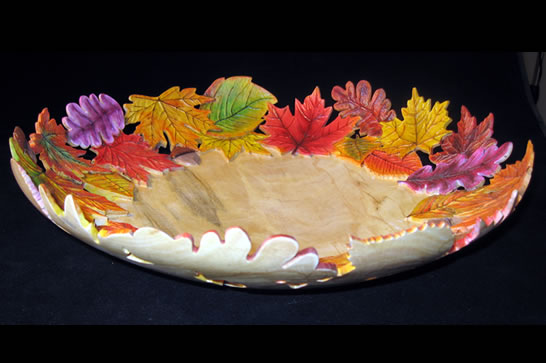 Piece #436 – Sycamore – 15″ by 3″
_
Autumn Splendor is made on the wood lathe from a piece of specimen Sycamore. The tree blew down in the Spring storm of 2011 at Knoxville, TN.  The shape was turned on the lath about 1″ thick at the base and about 5/8″ thick where the leaves start. The piece was sanded to 220 grit sealed with shellac.  The leaves were then penciled in.
The next step was to cut the edges of the leaves around the outside of the rim. Then I made a relief cut around the inside edges of the leaves at the bottom of the bowl.  Piercing the negative spaces between the leaves was next. Making  the leaves 3 dimensional by relief carving the texture and veins make the look pop. Wood burning the veins with a razor tip completes the wood work.
The leaves were then sealed with a one lb. solution of dewaxed shellac. After curing, each leaf was individually masked with frisket.   It was now ready to air brush.
Air brushing the leaves with transparent paint is the secret to realistic, vibrant color. On most leaves I lay down a base coat of yellow. It may vary in shade and amount depending on what color I want to end up with. Next comes the red, orange or green layered on lightly in the areas I want the heavier color. A red leaf has a base coat of pink instead of yellow. The same for the purple leaves. Once the leaf looks good I go back and add a touch of shading grey to create shadows. It is important to remember, "Less is More".
After the paint cures for several days I apply no less than five coats of satin lacquer from a spray can. Two hours between coats so that I do not have to sand. The display stand is finished with gloss brushing lacquer.
Roger Dale Scott
WoodPops