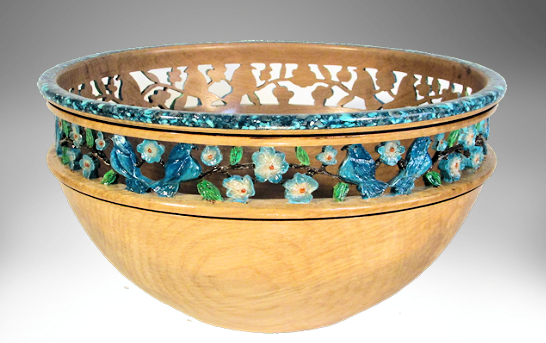 Piece #536 – Maple & Calcite – 10″ by 6″
The uncarved version of this bowl sat on my shelf for several months. It was complete except for the blue birds and posies. I just could not make up my mind on how to finish the piece.
Well, it is finished now and I am really pleased with how this one turned out.  The mineral rim is calcite, howlite and fushite.  I had to dye the minerals to achieve the various shades and hues of blue. After air brushing the colors on it was really bright. Quite stark. My muse suggested I tone it down somehow. I used an antique brown glaze to make a wash.  Just what it needed. Finished it with a diluted solution of clear shellac then four coats of gloss lacquer. Buffed and polished with the Beal system to get a baby smooth finish.