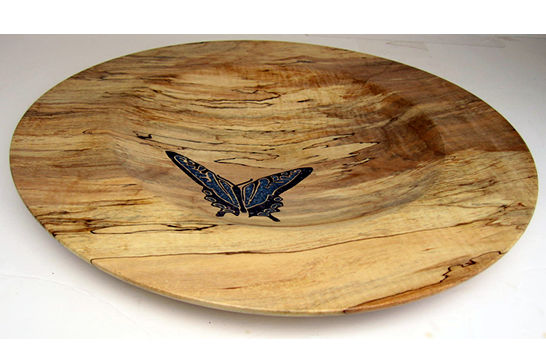 Piece #302 – Spalted Maple / Opaque Calcite – 14.5″ x 1″ – SOLD

This is a specimen example of spalted Maple. The spalting lines suggested clouds to my imagination. What better place for a soaring butterfly? The butterfly is inlaid with opaque calcite dyed blue and black. I love to use opaque calcite dyed with the colors of an unlimited palette.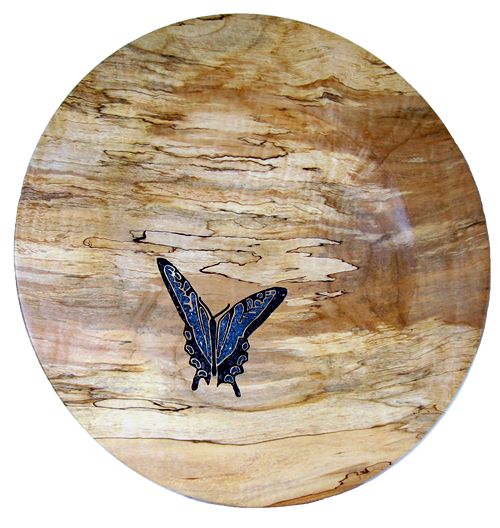 The dying process is simple. After I have crushed the calcite I put it in an old metal coffee pot. I drip in a drop or two of the colored dye of my choice. Next I drip in denatured alcohol to dilute the dye to the shade I desire. Swoosh it around to make sure the dye covers every facet of the calcite crystals. I add more dye or alcohol if needed to achieve my desired shade of  the color. When I am satisfied with the color I throw in a lit match to burn off the alcohol. As the alcohol burns I swoosh the calcite around some more to make sure all of the alcohol is burned off. When the flames go out I dump out the dyed calcite and spread it out to cool. After it has cooled I sift the calcite using varying sizes of kitchen cooking sieves. This gives me five sizes of calcite crystals to work with. Click here for more on inlay process.
The great thing about dying opaque calcite is two fold. One – your color palette is unlimited; two – during the sanding and polishing step the dye is removed from the surface facet of the crystal and you are seeing the color through the calcite to the bottom dyed facet. This gives the inlay depth and dimension.