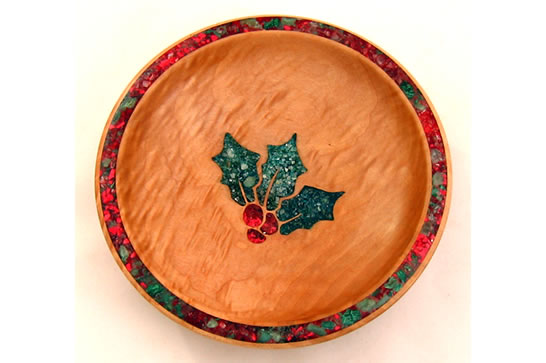 Piece #483 – Maple with Calcite & Howlite Mineral Inlay – 6″ by 1.5″ – Sold
This attractive, small decorative dish was made specifically for the Columbus Winterfair Art Show. It was the second piece I sold on the first day of the show. I knew it would go quick.
The inlay on the rim is white Calcite dyed red and green along with red Howlite. There is also a smattering of clear optical grade Calcite in the rim. The Holly idea came from my Muse. She thought it would be perfect for the show. As usual, she was right. The dish was sanded through 5000 grit sandpaper. A liberal amount of Danish Oil was applied to the piece for about 15 minutes, then the access that did not soak in was wiped off. After the dish dried for about a week I buffed it using tripoli and white diamond compound. I then applied carnauba wax with the Beal polishing wheel.