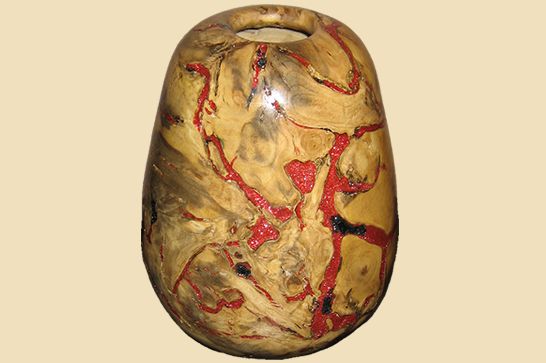 Piece #135 – Crape Myrtle – 6″ dia by 8″ tall – SOLD
First let me say this picture does not do this vessel justice. You have to see it to believe it. The wood is very hard and has spectacular translucent curls on one side. The color is tan with shades of gray swirling about. The figure is random with no particular direction. The fissures are filled with Inlace.
This Dragon's Egg is 8 inches tall and 6 inches in diameter. The wall thickness is about 1/4 inch. This piece was very challenging and labor intense. It was made from the root ball of a Crepe Myrtle Bush. When I hauled this off the street and loaded it into my truck it was covered in dirt. It was just dug up. The soil was still wet. It was so big I couldn't get my arms all the way around. It weighed a ton; just kidding, It was very heavy. It looked like crap. I don't know what possessed me to drag this monstrosity home.
I hosed it down with a power nozzle to clear the dirt away. With the soil washed away it was even uglier. It looked like a deformed octopus. I cut all of the roots away from the main ball with my Poulan Pro 262 chain saw. That didn't help the look of it, but still I thought, "what are you hiding in there?" I threw it under my work bench and forgot about it for about 9 months. When I rediscovered it I wondered if it was worth messing with.
Because it was a root ball it was not solid wood but many roots compressed into a semi ball. Between the edges of the compressed roots, fissures appeared. Not cracks but jagged fissures which ran all the way through the piece. After a severe trimming on my Rikon 18 inch band saw it still did not look like it was turnable. However, something inside that horrible, gnarled, reject of a piece of wood spoke to me.