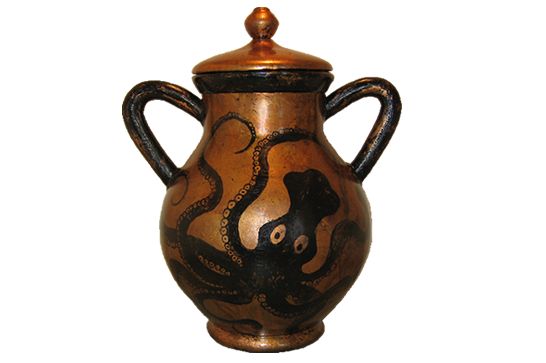 Piece #147 – Oak – 8″ dia x 12″ –
I turned this Greek urn from oak. I hand carved the two handles from the same oak and added them to the piece using CA glue and a small tenon. The whole piece was coated liberally with sanding sealer and allowed to dry. Over the next two days I applied two coats of black acrylic spray paint. About a week later I sanded the paint with 400 grit sand paper and cleaned it thoroughly. I then applied gilders size and laid down copper leaf covering 99% of the piece. I let the piece dry for about a week.
To start the patina process I sprayed the piece with a fine mist of water. Tissue paper was laid on randomly making sure it adhered to the dampened urn.
Next I dab on a solution of sodium sulfide, making sure to cover all of the dampened tissue paper. This was left to soak through the tissue and react with the copper for about 60 seconds. Using paper towels I remove the soaked tissue paper and dab the surface dry with fresh paper towels to remove any residual sodium sulfide and stop the chemical reaction.
The piece will be left to dry for at least 24 hours then the next step will be applied. My son Mitch hand painted the octopus on the urn.  You can see more of his work at www.exoticwoodturning.com