Piece #218 – Hackberry – 9″ dia x 6″ – SOLD
We had a really bad storm come through Knoxville on April 27, 2011. A lot of trees were destroyed. This piece comes from a huge Hackberry tree that blew down at 8623 Nubbin Ridge Road. I picked up enough Hackberry for about eight nice size works.
This open form came from a nice size crotch. I turned it green to about 3/4″ wall thickness and then microwaved it about 20 times for 3 minutes letting it cool completely between. I turned it down to its finished size and brown bagged it for a week.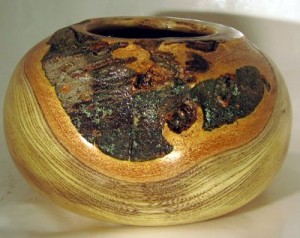 Out of the bag I sanded it from 80 grit through 320 grit. Next I put on a coat of  Zinsser 00304 Clear Shellac Finish & Sealer and let it dry about a week. I then put on a very thin coat of Minwax Water Based Stain (Early American), let it soak for about 5 minutes and wiped it off. I let this dry for about a week then put on 3 more coats of the shellac.