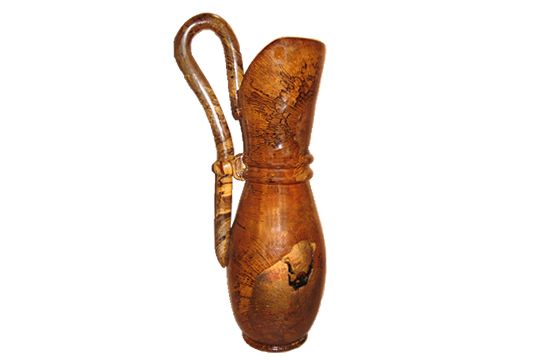 Piece #153 – Spalted Oak with copper leaf – 4.5″ diam by 15″ tall – SOLD
This oak pitcher is made from spalted oak. The copper leaf is around the black knot near the bottom and extends almost all the way around. My first step was to apply gilders size and lay down copper leaf on the area I wanted the copper. I let the piece dry for about a week.
To patina the copper I start the process by spraying the piece with a fine mist of water. Tissue paper was laid on randomly making sure it covered and adhered to the dampened copper. Next I dab on a solution of sodium sulfide with a piece of sponge, making sure to cover all of the dampened tissue paper. This was left to soak through the tissue and react with the copper for about 60 seconds. Using paper towels I remove the soaked tissue paper and then dab the surface dry with fresh paper towels to remove any residual sodium sulfide and stop the chemical reaction.