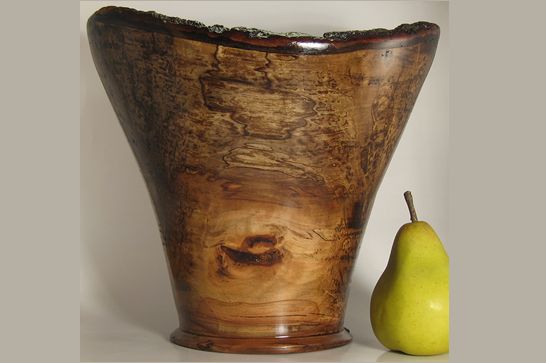 Piece #151 – Oak Natural Rim Vessel – 10″ diam by 10″ tall – SOLD
This Oak vessel is 10 inches tall and 10 inches in diameter. It is cut from my neighbor's Live Oak tree. As soon as it was cut I blocked it to size and wrapped it very tightly with about 5 layers of that plastic stretch wrap to seal in the moister. After curing about 9 months, I removed the stretch wrap. The wood had a black looking mold or fungus on it. I sprayed it with Clorox bleach then washed it with a hose. After it dried I put it on the lathe and turned it.
The top rim, all the way around, is the natural bark. I was very careful to respect the bark. After hollowing down about two inches, leaving the wall ½ inch thick, I secured the bark with thin Cyanoacrylate glue (CA – super glue, crazy glue). I finished turning the piece maintaining about a ½ inch wall thickness down to the base which is about one inch thick. I sanded through 600 grit sand paper.
I applied Minwax® Wood Finish™ Early American oil stain and let it dry for a couple of days. To finish the piece I applied 4 coats of Minwax® Wipe-On Poly high gloss, sanding with 320 grit between coats.
I sold this piece at the Pellisippii Ballon Festival in the fall of 2010.