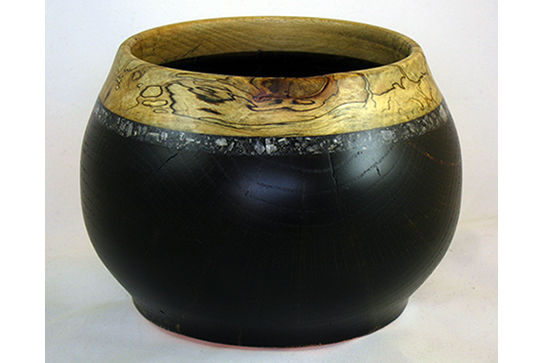 Piece #434 – Oak & Maple with Calcite Inlay and Copper Bottom – 7″ by 5.5″ – SOLD
This piece has had more lives than a cat. It started out as an ordinary oak bowl. But, the top blew out while turning. A maple piece I was working on later, the bottom blew out. Of course I keep all these worthless pieces. So I decide to marry the maple top to the oak bottom. Looked like you know what. Needed something. Black and white calcite inlay to separate the oak from the maple. That works. Okay, still not right. Got it – turn the oak black with Iron Water ebony technique. Looks awesome.
Now we just cut off the tenon that's gripped by the chuck and finish it. Right. Cutting the tenon to close left a small hole in the bottom. What a dumb ass! Now what? Make a plug, fill the hole, putty it, sand it. Looks like sh– well you know. Gotta hide it without a tell. Got just the ticket. Apply Copper leaf to the bottom. Use sodium sulfide to put an antique patina on the copper and, Voila Old Oak Pot with Copper Bottom. It's not about the destination; it's about the journey.