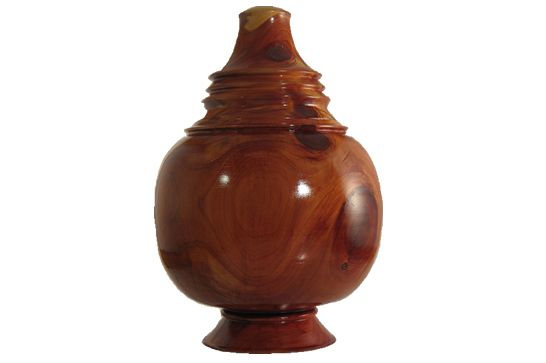 Piece #128 – Cedar – 7″ dia x 11″ – SOLD
This large cremation urn is made from Red Ceder that came from the west coast of Florida. I loved turning this piece because it smells so good. Oh yea, it's easy to cut also. The one problem it has is a tendency to produce small checks (cracks) even though it is thoroughly dry. You can see them near the base if you look closely.
The Urn is 11 inches tall and about 7 inches wide. The lid starts at the first bead counting up from the bottom. It was dressed with Woodcraft 100% Pure Tung Oil. I applied three coats of Minwax® Helmsman® Spar Urethane and a top coat of Minwax® Wipe-On Poly high gloss, sanding between coats with 320 grit paper.
I have turned several pieces from Red Ceder as it is one of my favorite domestic wood species. I am not turning exotic wood much as it is pretty expensive and I have not started selling any of my work yet. It would be great to sell enough to support my habit.