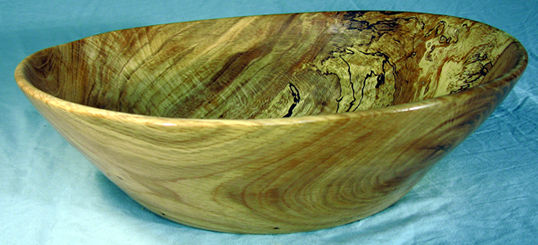 Piece # 202 – Spalted Oak – 14″ dia x 4.5″ – Sold
Sometimes what you end up with is not what you wanted. You would not know to look at this beautiful bowl that it is not what I had in mind when I started this piece. I thought the wood for this bowl was dry enough when I started, but that's the mystery of wood.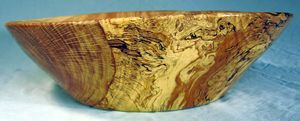 My initial design was a much deeper bowl with a smaller bottom and two beads around the top rim. My problem was that I did not leave enough thickness around the top rim when I rough cut the bowl. I set the bowl aside to dry further. When I came back to it a month later the top had warped substantially. So much so that when I put it back on the lathe to true it back up there was not enough material along the top to leave in the beads. I had to remove the top two inches of the bowl.
Man was I ticked-off. If my temper had gotten the best of me the bowl would have ended up a splintered heap on my scrap pile. However, patience prevailed and I have this beautiful salad bowl that someone will one day cherish. There's a lesson here somewhere – I think.