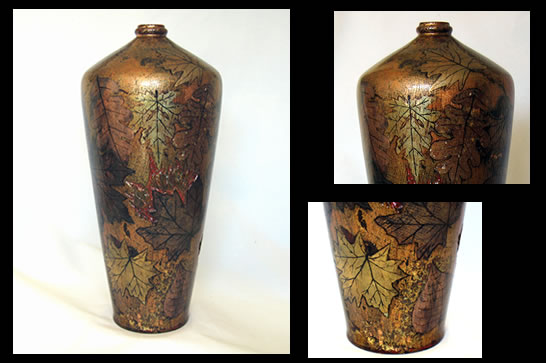 Piece #490 – Oak – 6″ by 12″ – SOLD
This vessel has many layers. First a one pound cut of dewaxed shellac was applied as a sanding sealer. after curing I sprayed a coat of flat black acrylic paint next. When that cured I applied an even coat of Behlen's Rock Hard Table Varnish. Two days later I applied the copper leaf and let that cure 5 days. To see the application of copper leaf click here.
A chemical patina was created on the copper by using a Sodium Sulfide wash. (Click here to see how.) Once that cured another coat of Behlen's was applied and left to cure. The leaves were applied individually using silver leaf, copper leaf and faux gold leaf. Each with a different chemical patina to create different colors and effects. There are a total of five layers of leaves applied. After each leaf layer was tarnished another coat of Behlen's was applied and then another layer of leaves and patina, and so on. Once all of the leaves were complete I carved the smoldering embers using my high speed dental drill. I then masked off the area around them. Using transparent paint in my air brush I added the ember effect. This took sever layers of transparent paint. The veins were added last using a fine line black Sharpie. The final finish is four layers of spray on gloss lacquer. It was then buffed and waxed.
Roger Scott, Woodpops