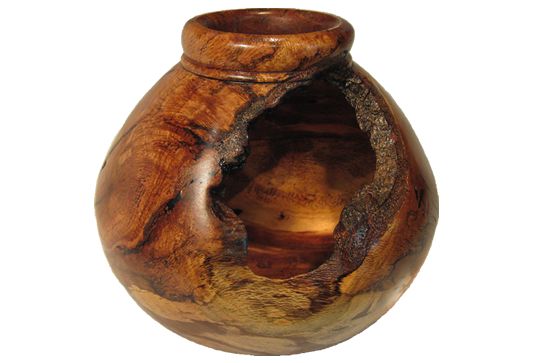 Piece #132 – Spalted Maple – 7″ dia by 8″ tall – SOLD
This piece came from a tree taken down from a church parking lot from Orlando. My son and I were returning from a sales call when I spotted the tree crew from I-4. We took the next exit and swung into the parking lot. They were happy to give us what we could get into the back of my Jeep. This large block with the natural inclusion waited patiently in my shop until I was experienced enough and had a lathe big enough to turn it.
The spalting, color, figure and inclusion is very striking. This is the first piece I turned with a significant amount of "AIR" to be delt with. Turning air can be testy. I especially wanted to keep the tree bark in tact around the inclusion. This in itself was quite challenging. I used copious amounts of CA glue around the edges of the bark to help secure it in place during the turning process. Still, to my horror, a little around the bottom disintegrated. All in all I am quite pleased as are my critics.