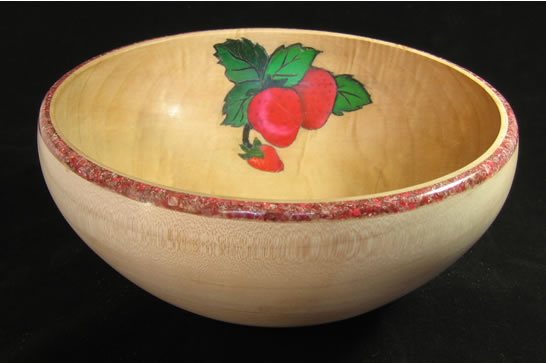 Piece #494 – Maple, calcite, howlite – 9″ by 4″ – Sold
The red design on the rim is inlaid calcite and howlite mineral. While the bowl is still on the lathe I cut 3/8″ deep square bottom groove in the rim. Remove it from the lathe and hand place the minerals in the groove. When it is full and pleasing to the eye I carefully squirt very thin CA glue in the groove until it is full up to the edge, without running over. Let that all cure for about three days. Put it back on the lathe and sand the top of the mineral with 80 grit sandpaper. Take it off the lathe and inspect the mineral for any holes in the mineral. Any found are filled with calcite dust and topped with CA glue being careful not to let it get on the wood. Let it cure a couple of days. Put it back on the lathe and sand with 100 grit paper through 4000 grit paper. Polish with tripoli and white diamond past.
The strawberries were masked with frisket and then air brushed with the appropriate translucent colors. The bowl was finished with dewaxed shellac.
Roger Scott
WoodPops