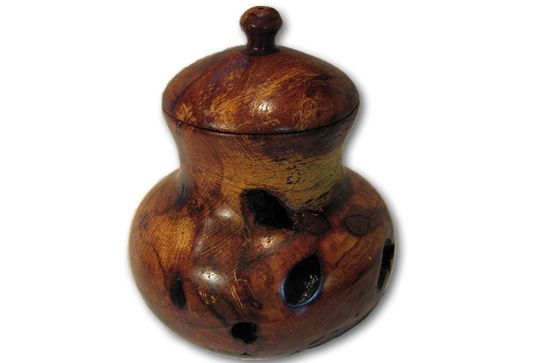 Piece #123 – Turkey Oak – 6″ dia by 8″ tall – SOLD
This very unusual gourd looking vessel is part of my "Worm Hole" collection that came from the Turkey Oak tree I cut down in my back yard. (If you haven't read that posting, you should; it's quite funny.) The tree was infested with worms producing the holes you see in this vessel.
It is 8 inches tall and 6 inches in diameter with a loose fitting lid. The figure and color combined with the worm holes give this Oak Vessel an abundance of character.
This work of art would look great in a country kitchen decor. You could even keep your teabags stored inside. There is nothing as rich and warm as a great piece of wood properly displayed. I also love the feel of wood texture and can often be found in my shop rubbing my wood.