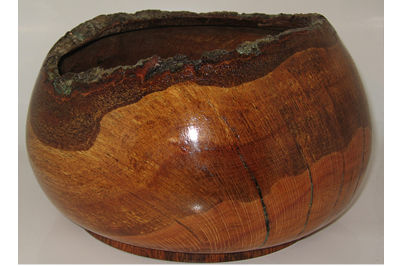 Piece #102 – Oak – 10″ dia by 6″ – Sold
This beautiful oak bowl shows off the natural rim as well as highlights of turquoise mold growing on the bark. 

The bowl is 10 inches in diameter and 6 inches deep. The opening on top is not round because of the natural flow of the bark. The bottom was set in from a different piece of oak to give it contrast. The piece was turned green which resulted in several checks. These checks were filled in with ebony saw dust and turquoise lace making them seem natural with relationship to the mold growing on the bark. This oak natural rim bowl is quite stunning.