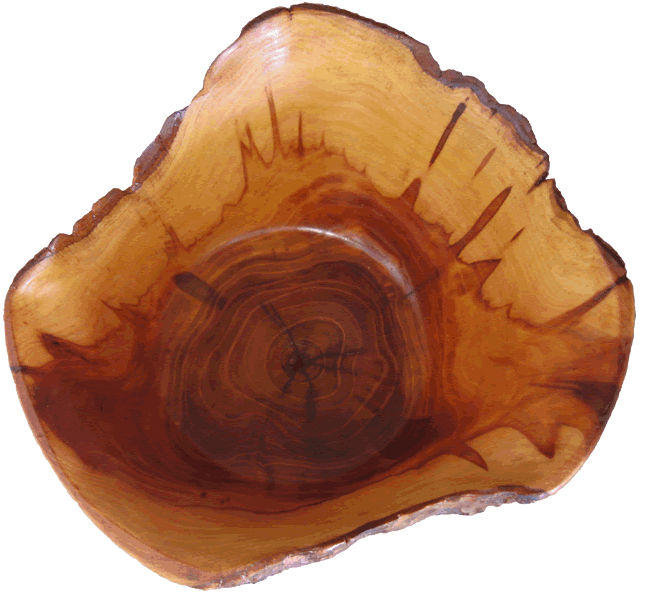 Piece #117 – Chinese Elm – 10″ dia by 6″ – SOLD
This natural edge bowl is turned from Chinese Elm. It is 10 inches at it's widest and 6 inches deep. Notice the random spikes of heartwood shooting out from the pith in the center. Very dramatic. The bark left on the upper sides of the bowl add an element of surprise to catch the eye. This is an awesome piece of art, even if I do say so myself.
This was a very difficult piece of wood to turn because of its very odd shape and hollowing the end grain. The bowl is cut from the middle of the tree so that the center of the dish is the pith surrounded by the heartwood. Next is the sapwood and exterior bark. I could only turn the center out to about 6 inches because the lathe spins the wood in a true circle. When the bottom and lower walls were the right thickness I parted the piece from the lathe.
From this point on it was all hand work. I roughed out the rest of the bowl  sides with my Dremel® and a number 115 high speed cutter. Once the bulk of material was removed I switched to my one inch ball die grinder fastened to my air compressor. This tool was used to bring down the high spots. Next I switched to a round hand scraper. Using much elbow greese and a lot of patience I thinned down the wall to a relativly uniform thichness. From this point I sanded with 80 grit sandpaper through 220 grit then applied Minwax® Tung Oil Finish to bring out the color in the wood. I let this dry about a week. I then applied three coats of Minwax® Polyurethane semi-gloss.
This would make a great wedding gift.